It has been so long since I have posted a weekly report or any real happenings here at our casa.... although we have been sticking to basics.... I have been having a rough time getting the "other" stuff done... Like TOG, science and some Spanish... consistently anyway.

I have been so energized by our Sketch Tuesdays and Green hour challenges (although #3 will be up tomorrow, Monday) and revisiting a more Charlotte Mason style in scheduling..... I have come to peace with a new outlook for what we are about to embark on. My times are longer I'm sure… but feeling confident it will work…

First things first. I have been praying about school, and our main focus. My focus for my girls, is to train for heaven... not Harvard. Although academics are important, I do not want to burn my children out... I think we are all feeling a bit overworked from the beginning of the year and have not truly had a good groove since Christmas break! Yikes.... So we will school 6 weeks on 1 week off and school year round from here on out. Taking all of July off. My mind set may seem strange… but we work 6 days and take the 7th off… I'm just applying it to weeks instead. *Ü*

We are having our Basque student return from last year! We are all excited, so July will be busy with him and enjoying his time here.

Secondly.... our schedule that we have not even followed since December! It has changed. Christian also has a job 2 days a week and I want to allow her the freedom to do that. Its only 4 hours a day 2 days a week. She is loving it! My friend CD who owns a local teaching supply store here in town called and offered her the job 2 weeks ago. So she is working not only with educational resources, but for a wonderful Christian woman who also home schools her son. Couldn't ask for a better first job!

Christian does have some school after work, and youth group has become third in priority on Wednesdays. She has a disciple group that gathers Sunday morning during 1st service and then we are all in 2nd service together. So she still has an outlet each week if she can't go to YG each Wednesday. I doubt she will miss though! lol She loves Youth Group!

We will also take 1 and a half to 2 weeks on TOG. This way we will get it all in, geography, world view, church history, timelines, art appreciation and literature along with regular history readings. So this means no online co-op for next year. We were going to ease back in, but now I have just decided we will not. Sad, but maybe we can find another in real life family to co-op with. If not, we have done fine these last 4 almost 5 years now.

I have mixed my schedule up a bit.. Following Jessica's lead and not having the same subject each day at the same time. Here is our new schedule.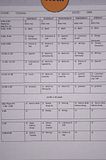 For now the main focus of the schedule is before lunch. If we do not get to after lunch things, I wont stress. However, Tuesday and Wednesday for Christian is a must. Please ignore the lunch time in the space all by itself. I forgot to remove it.
I really want the afternoons free to go on walks, exercise, cook and or crafts…. What ever we want to do. I want this time free....
So that's us, I hope to be back on track with our weekly reports being weekly, instead of not reporting at all.... I love seeing what we do, but writing out what little we have been doing seemed tedious and useless....
Prayerfully looking forward to this week!